V105T
ADVAN Sport V105 Construction
1) High rigid steel belts
Steel belts prevent the carcass from turning up at high speeds and improve stability.
2) Rayon carcass
The high-spec rayon within the tyre body meets the demands of European car manufacturers for original equipment tyres.
3) Overlapped jointless winding system
Overlapping the belt covers the edges and enhances durability.
4) Jointless triple-edge cover
Both edges are folded up to create a high-rigidity, jointless belt cover.
5) Matrix body-ply
The new structure offers improved circumferential rigidity for optimum steering stability.
Newly developed Matrix Body-Ply improves steering stability
The angled ply is close to the tread. Circumferential rigidity is improved through a double structure spanning the cover from sidewall to shoulder, enhancing steering precision without diminshing ride comfort. It also improves dry grip by maintaining contact with the road surface.
Matrix Body-Ply: Anti-Twisting
Matrix Body-Ply: The high side rigidity allows the tread and bead to roll without deviation, yielding quick and accurate steering response.
Conventional Construction: If side rigidity is low, the tyre becomes distorted, delaying the reaction between the tread and the bead, and reducing steering precision.
Asymmetric Pattern strengthens wet and dry performance

To achieve a powerful grip, designers optimized and enlarged the contact patch and added large blocks and large grooves. To further improve wet surface performance, the main groove stays at the centreline of the contact patch when turning. That layout exhibits superior water shedding characteristics when cornerning.
ADVAN Sport V105 Tread Pattern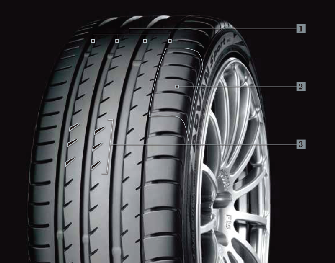 1) Variable width circumferential grooves
Uses wider 3+1 main grooves.
Displays exceptional hydroplaning resistance at high speeds.
2) High-rigidity wide shoulder
Significantly improved pattern rigidity at ultrahigh speeds and realizes powerful grip on dry surfaces.
3) Silent Sipe
These thin slits positioned on the inboard of the ribs suppress external vehicle noises.
Asymmetric Pitch Variation
Optimized pitch on the inboard and outboard side of the tyre to enhance both manoeuvrability and quietness.
The Compound, a leading car manufacturer found ideal
The compound for V105 tyres was developed with the cooperation of a leading European car manufacturer, and the objective was to achieve a very high level of performance. At the beginning, the staff was given the objective of "making the best rubber in the world". They did simulations that mixed and balanced many ingredients, looking fo the ideal mixture. The new compound developed shows gripping power never achieved before.